Red Dead Redemption 2 on PC: everything we know
6 min read
Red Dead Redemption 2 on PC: everything we know
We can finally be cowboys. Red Dead Redemption 2 is officially coming to PC, and it'll be out before the end of 2019. The announcement doesn't come as a big surprise given all the rumors and leaks we've compiled since 2018, but it is a little surprising that it'll be out so soon. Here's what you need to know about the open world wild west adventure, and when you'll be able to play it.
Red Dead Redemption 2 PC release date
The Red Dead Redemption 2 PC release date is November 5th, 2019. You can start pre-ordering the game on October 9, and you'll get a number of bonuses for doing so on the new Rockstar launcher, including cash bonuses for the main story and gold bars for Red Dead Online.
Red Dead Redemption 2 is also going to be available on other storefronts, including the Epic Games Store, with pre-orders starting later on October 23. Those who want to buy it on Steam will have to wait until December. The month-or-so long wait is better than the year-long Steam delays we've seen recently, though it's still a nuisance for Steam loyalists. 
Below you'll find some more information on RDR2 PC and what you can expect from the game, if you haven't been following it since release.
Here's a brand new trailer for Red Dead Redemption 2 on PC
Rockstar's new trailer for Red Dead Redemption 2's PC release is an environment showcase set to an Arthur Morgan monologue. Instead of action and gunfights, it's more about all the scenery in the big open world that we'll be exploring once November hits. In case that song is giving you goosebumps, it's the Mountain Hymn by Rhiannon Giddens off the Red Dead Redemption 2 soundtrack.
What's the big deal about RDR2 anyway?
It isn't everyone's cup of tea, but when it released for consoles Red Dead Redemption 2 was widely applauded for its expansive world, your freedom within it, and its capacity to react to your behavior. Andy Kelly played it on PS4 last year, and has lots of praise for its story, sound design, and world.
It's the open world western game, then—not that it had a huge amount of competition in the genre—and when it comes to PC we're hoping we get the best version of it. Rockstar is withholding specific details for now, but says to expect "a range of graphical and technical enhancements" as well as "new Bounty Hunting Missions, Gang Hideouts, Weapons and more."
There's also the prospect of modding to consider. Rockstar hasn't officially supported GTA mods, but it hasn't stopped creative PC gamers from creating GTA 5 roleplaying servers, mucking with the graphics, or adding in new character models. 
Red Dead Redemption 2 will have new missions, weapons, and hideouts in story mode
The PC port for Red Dead Redemption 2 will have quite a few new pieces of content on top of the original console release from last year. 
New story mode weapons
The M1899 pistol is completely new to Red Dead Redemption 2 while the Evans Repeater, High Roller Revolver, and Le Mat Revolver were originally only available in Red Dead Online.
M1899 Pistol: all-new Semi-automatic handgun with clip loaded ammunition
Evans Repeater: high capacity repeater
High Roller Revolver: ornate double-action revolver
Le Mat Revolver: powerful revolver with the ability to shoot shotgun shells
New story mode horses
Warped Brindle Arabian: a fast and agile mount
Few Spot Appaloosa: beautiful and hardy, ideal for cross-country journeys
Perlino Andalusian: a healthy, sturdy animal ideal for hunting
Red Chestnut Arabian:  a fleet-footed beast with a distinctive coat
New wild horse variations: Buttermilk Buckskin Kentucky Saddler, Liver Chestnut Morgan and Gold Palomino Tennessee Walker
New gang hideouts
The Del Lobos gang has two new hideout locations where you can take them on:
Gaptooth Breach
Solomon's Folly
New bounty hunter missions:
Herman Zizendorf has been stealing tools from tradesmen – track him down in Blackwater.
Ex-Confederate Cavalry Officer Camille de Millemont is wanted dead or alive out by Catfish Jacksons, but his loyal men are never far behind.
Bart Cavanaugh and his gang are camping out in Big Valley. Take Bart dead or alive without alerting his gang if you want to avoid a whole mess of trouble.
New treasure maps
Landmarks of Riches 
The Elemental Trail 
New trinkets:
Hawk Talon: permanently decreases Stamina bar drain speed by 30% when drawing a bow
Cat Eye: permanently increases the length of Fortifying tonic effects by 20%
Shark Tooth: permanently increases horse bonding experience bonus by 10%
Turtle Shell: permanently increases health bar refill speed by 10%
Crow Beak: permanently increases looted ammo by 10%
Red Dead Redemption 2 will have graphical improvements on PC
The PC port for Red Dead Redemption 2 will have a decent list of graphical tweaks. To find out what kind of hardware you'll need to make the most of these improvements, check out the Red Dead Redemption 2 system requirements. These are the adjustments coming to the PC port:
Increased draw distance
"Higher quality" global illumination and ambient occlusion
"Improved" snow trails
"Improved" reflections and higher resolution shadows
Tessellated tree textures
"Improved" grass and fur textures
HDR support
Unlocked resolution (4K and higher)
Ultrawide aspect ratio and multi-monitor support
Unlocked framerate
FiveM is already making mod tools for Red Dead Redemption 2
The folks behind FiveM, the popular multiplayer modding framework for Grand Theft Auto 5, have announced a version of the tools for Red Dead Redemption 2 PC appropriately called RedM.
FiveM is aiming to release RedM around a month after RDR2's PC launch, "assuming no crazy DRM obstacles," according to the announcement tweet. If RedM arrives on time, it will roughly coincide with the release of the game on storefronts beyond Rockstar's own launcher.
FiveM is used to enable all kinds of multiplayer shenanigans in GTAV, but most notably the mod is used to create the popular roleplaying servers that have captured the attention of Twitch streamers for much of 2019. RDR2 already feels like a roleplay simulator to a degree, so it'll be interesting to see what RedM can do to enhance that experience in a multiplayer setting.
We're announcing RedM for Red Dead Redemption 2 on PC, to be launched around a month from the PC release (definitely in time for the holiday season!), assuming no crazy DRM obstacles.Visit our minisite for more information: https://t.co/HOlSWKnbmWOctober 4, 2019
Rockstar releases its own PC games launcher
Recently, Rockstar released its own platform for games called the Rockstar Games Launcher. To encourage people to become early adopters, Rockstar is giving away a free copy of Grand Theft Auto: San Andreas to all users. This is where you can pre-order RDR2, and the first place you can play it on PC.
Why did Red Dead Redemption never come to PC?
Red Dead Redemption never came to PC after its original release in 2010, and Rockstar answered (vaguely) as to why that was the case back in 2011. "All we can say is that whenever it is viable (technically, developmentally and business-wise) for us to release a game for PC (or any other particular platform)—we will and we usually do; unfortunately, that is just not the case 100% of the time for all platforms." That was a long time ago, though, and even at the time the company was bringing LA Noire, GTA and Max Payne 3 to PC. 
You have to go back 10 years to find another major Rockstar console game that skipped PC (Midnight Club: Los Angeles).
We did have a pretty bogus rumor spread via Reddit in July claiming that Read Dead Redemption would be remade for consoles and PC with all of Red Dead 2's features included and a larger map. It sounds too wild to be true because it is. The poster confessed later that they had made the rumor up as an "experiment."
There is a way to play the original Red Dead Redemption on PC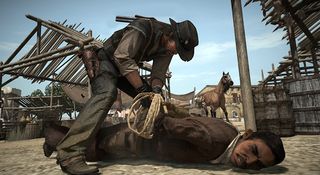 Strangely, in lieu of a proper PC release for 2010's Red Dead Redemption, you can stream it through Sony's PlayStation Now service. It's no substitute for having the game in your Steam library, of course, but it's an option if you decided not to drop several hundred pounds on a console eight years ago. It's arguably Rockstar's second or third best game ever after RDR2 and GTA 5, and still holds up pretty well.